📢 Latest NFP (US Non-Farm Payroll) Data Prediction for the Month of September 2021
By XFlow Markets Team Thursday, Oct 7, 2021 | World News

US Non-Farm Payroll Data Forecast
For the Month Of September 2020
A bump-and-go ride in the equity markets makes the outcome of U.S employment figures more vital. The slowdown in markets amid rising energy prices & inflation concerns strengthened the greenback since the last few sessions.
However, the traders & investors got a sigh of relief after the U.S posted an increase in Oil storage levels, the Government averted the U.S debt ceiling & Russia agreed to increase Natural gas supplies in order to meet mounting consumption demand.
This widely cushioned the market sentiments in the later half of the week.
Now, the focus remains on the result of U.S Non-farm payroll data which will show a change in the number of employed people during the previous month, i.e. September, excluding the farming industry & will be issued on Friday, October 08, 6.00 pm IST.
The report expects a rise in employment figure by 490K as compared to the previous figure of 235K & a drop-down in Unemployment Rate to 5.1% from 5.2% previously. The bulls may be extended further if data comes out to be positive.
Below is the Graph showing the changes in Employment data over the last three months.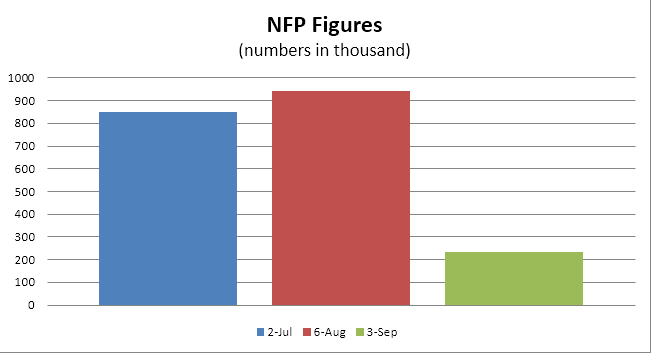 For the data release of U.S ADP Non-farm Employment Change on October 6th, the number of employed people rose by 568K higher than forecast 425K which may contribute to upbeat NFP results on Friday.
Also, the market will be looking forward to the outcome of U.S Jobless Claims data on Thursday.
If NFP data comes out to be stronger, then the possible effect can be – strong US Dollar Index, soft precious metals & stronger global indices.
Another way round, if data shows downbeat results, then downside in indices & buying bias in Gold can be noticed.
XFlow Markets Team
XFlow Markets is one of the leading brokerage firm in the trading industry with vast number of clientele followers. We are ranked as the top most firm with 9 years of experience along with top-notch trading services. We widely trade in Forex, Indices, and Commodities.