Non-Farm Payroll (NFP) Data Forecast
By XFlow Team Friday, Sep 1, 2023 | World News

Uncertainty hovers over upcoming Fed monetary outlook in the month of September as the traders & investors hope for no change in interest rates. However, the recent Fed Jerome Powell speech at Jackson Hole Symposium hinted for more rate hikes in order to control the rising inflationary pressure. Besides this, the China unveiled new measures to support the stock market & property sector which might improve economic conditions & hence boosted up the equity markets. On data front, the traders will be looking forward to the result of U.S Non-farm payroll data release which to be issued on September 01, 6.00pm IST, Friday & will show a change in the number of employed people during the previous month, i.e., August, excluding the farming industry. The higher the employment, the higher the inflation rate & vice-versa. The controlled inflation rate may signal for slower & smaller rate hikes in U.S.
The report expects a mild rise in employment figure by 169K lower than previous reading of 187K & an Unemployment Rate may remain steady at 3.5%.
Below is the Graph showing the changes in Employment data since last three months.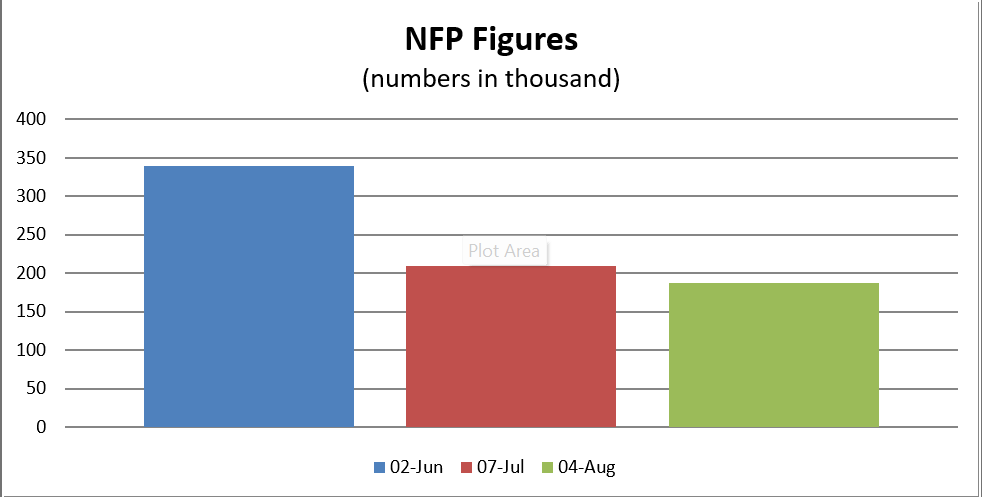 Above graph shows slowing progress in employment sector in last three months.
On Wednesday, the U.S ADP Employment Change estimates fell to 177K lower than the previous month's reading of 371K whereas the Jobless Claims rose to 228K against expectation 236K.
If NFP data comes out to be stronger, then the possible effect can be – strong US Dollar Index, soft precious metals & stronger global indices. Other way round, if data shows downbeat results, then downside in indices & buying bias in Gold can be noticed.
XFlow Team