📢 Latest NFP (US Non-Farm Payroll) Data Prediction for the Month of JULY 2022

US Non-Farm Payroll Data Forecast
For the Month Of JULY 2022
The equity markets & precious metals are shining since last one week against the mixed US Dollar Index & steady U.S bond yields. The major reason for this momentum is U.S FOMC's gradual interest rate hike hint in the near future after raising the rate by 75bps in its latest meeting.
This gave a sigh of relief amongst the traders & investors. In addition to this, the falling Crude Oil prices amid mild increase in OPEC+ oil output levels & cut down in consumption demand led the buying pressure in major indices & currencies. However, the rising geo-political tensions between U.S & China may poise to be significant factor for overall market instruments.
The market will be monitoring an outcome of U.S Non-farm payroll which to be issued on August 05, 6.00pm IST, Friday & will show a change in the number of employed people during the previous month, i.e. July, excluding the farming industry.
The report expects a gentle rise in employment figure by just 250K lower than previous reading of 372K while Unemployment Rate may remain steady.
Below is the Graph showing the changes in Employment data since last three months.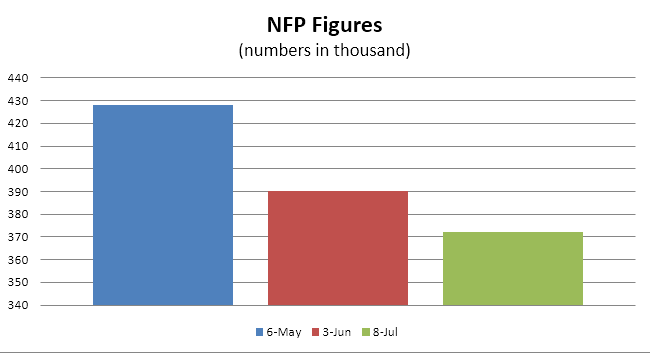 Above graph shows not so major progress in employment sector in last three months.
If NFP data comes out to be stronger, then the possible effect can be – strong US Dollar Index, soft precious metals & stronger global indices. Other way round, if data shows downbeat results, then downside in indices & buying bias in Gold can be noticed.
XFlow Markets Team
XFlow Markets is one of the leading brokerage firm in the trading industry with vast number of clientele followers. We are ranked as the top most firm with 9 years of experience along with top-notch trading services. We widely trade in Forex, Indices, and Commodities.